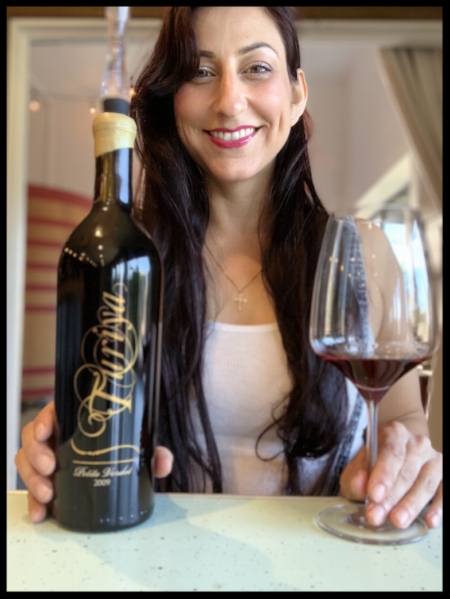 My journey has never been just me alone.
This business I've built was with your help. I am honored to have you to inspire, support and encourage me as the years pass. This harvest season is wrapping up but the adventures never end. In the spirit of that - I want to share some thoughts on the 2018 vintage.
Small History of The Central Coast Grapevines, the Drought and Global Warming:
When I began making wine in 2008, the growing season for Bordeaux (red) grape varieties typically began in late march and were harvested sometime in October or November. If I was working with the same grape and the same vineyard, the harvest date from year to year was consistent within a week or two. Sort of like pregnancy - the grapes had a due date that you could rely on. This is what I experienced until 2013 when the cistern on my property ran dry in late May. Water became a hot topic. Wells were going dry throughout the state. Farmers began drilling deeper to find water, sometimes unsuccessfully. The dry earth forced grapes into a ferocious state: conserving growth above ground while competing for water below. The extremes of summer heat pushed the grapes into ripeness months early. This continued for the next several years and the "new norm" was to harvest in August and September. Last year, I was harvesting Cabernet Sauvignon on September 1st. This year, my first pick didn't happen until October 17th and even today as I type this, harvest isn't quite over.
Back to normal - for now.
This vintage began last year when the drought finally relented and we had a nice wet winter, prepping the vines for their bloom in the Spring. Optimally, the biggest rains occurred before fruit set, soaking the lands that had been so thirsty for replenishment. Lakes and reservoirs were holding water again. Mother Nature took cue and held back on the rain once we got further into the Spring, allowing the berries to develop nice and slowly without becoming diluted or the vines over vigorous.

Honestly, we've had a pretty righteous growing season; the even temperatures provided homogenous development of flavors without throwing any curveball heat spikes or damaging frost. Toward the very end of this season we got a rainy day. It was a result of a hurricane off the coast of Baja. This rain happened days before I was going to call my first pick and due to the grapes soaking up the water from the rain, the berries sugar levels dropped back down and pushed the picking date back into the future. I would wait another three weeks before finally determining the time was right.
In The Cellar:
Vintage 2018 is exciting for more reasons than just the perfect season; vintage 2018 marks the 10th year for Turiya Wines and also holds some variety for your future cellar. After many years of working with Bordeaux grape varieties, this year I went for a few new grapes to add to your collection: Barbera, Lagrein, and Tempranillo. Each of these grapes, with their massive personalities have proven to be vastly different from each other thus far. These babies will be available for future/barrel tastings next year at the annual Spring Open House so I invite you to follow along the journey of these new wines as they develop into a beautiful ending for a beautiful vintage.
Invitation:
I know it is early on but remember that Turiya is a micro-sized winery so there is a good chance that unless you are following me religiously, you may miss out on news like this when these wines are ready to ship out (I know, I know, 4-5 years is a long time to keep this on your radar). If you require a specific notice when these wines are released (and are not a member), please fill out the form and we will let you know once they are available. Remember, members get first option to max out the allocation and receive 15% off all purchases - to apply for membership click here. Already a member? Sleep easy, these wines are already in your future.
Xoxo - Angela